Discover
Our Itinerary
The boat excursion to La Maddalena Archipelago with the Valentina Sailing Ship starts with a daily departure from Baia Sardinia at 9.00 am. The meeting point is our stand in the "Piazzetta 2 Vele" at 8.45 am.
On request, departures are also provided from Poltu Quatu, Cannigione, La Maddalena and Palau.
The first one-hour stop is in La Maddalena, the main island of the Archipelago, where guests can visit the lovely city center, go shopping, drink a coffee or enjoy an ice cream and take many wonderful photos.
The second stop is in the wonderful Island of Spargi, in "Cala dell'Amore", a beautiful white sandy beach where you can enjoy a relaxing swim.
Meanwhile, lunch is prepared on the ship, which includes 4 appetizers: peppers and artichokes in oil, sun-dried tomatoes and olive paté accompanied by local bread; as a first course we offer penne with prawns and tomato, or alternatively penne with tomato, basil and cheese, then seasonal fruits and coffee. Still and sparkling water and Vermentino di Gallura obviously accompany the meal. Finally the lunch ends with Sardinian sweets and myrtle. (The menu may be subject to change at the discretion of the crew; any food intolerances must be reported by 3pm the day before departure).
After lunch we depart towards the Island of Budelli to admire the famous Pink Beach and then arrive at the third stop in the natural pools of Manto della Madonna. Here it is possible to dive from the boat or you can also be accompanied in small and unknown coves.
On the way back, the fourth stop is near the island of Caprera, in the Cala Coticcio bay, also known as Tahiti, where you will be enchanted by the incredible marine flora and fauna.
The return to Baia Sardinia is scheduled around 5.30 pm.
Don't wait! Reserve your excursion on sailing boat.
Valentina Sailing Ship
A gem of the sea where you can find all the comfort you need..
Seventy-three years old but it does not show. And the ship Valentina II, vintage whaling originally built back in 1939 in the famous shipyard Mjosundet Bat og Hydraulik in Aure, Norway and used until the mid-90s between the Norwegian Sea, English Channel and the Baltic Sea. Since then, this historic vessel was the star of transformations and changes, without ever losing its original grandeur and today, despite its new function, still retains traces of its glorious past when plying the seas in search of small whales.
A few years ago, it had been recovered and brought to the Mediterranean via Gibraltar, Valentina II is currently used to transport about 22 passengers.
Where once was pinned networks, passengers can now enjoy spacious, comfortable cushions and awnings to make your stay as comfortable as possible on board. A stereo with CD player, a spacious lounge deck and two wc complete the features of this remarkable vessel.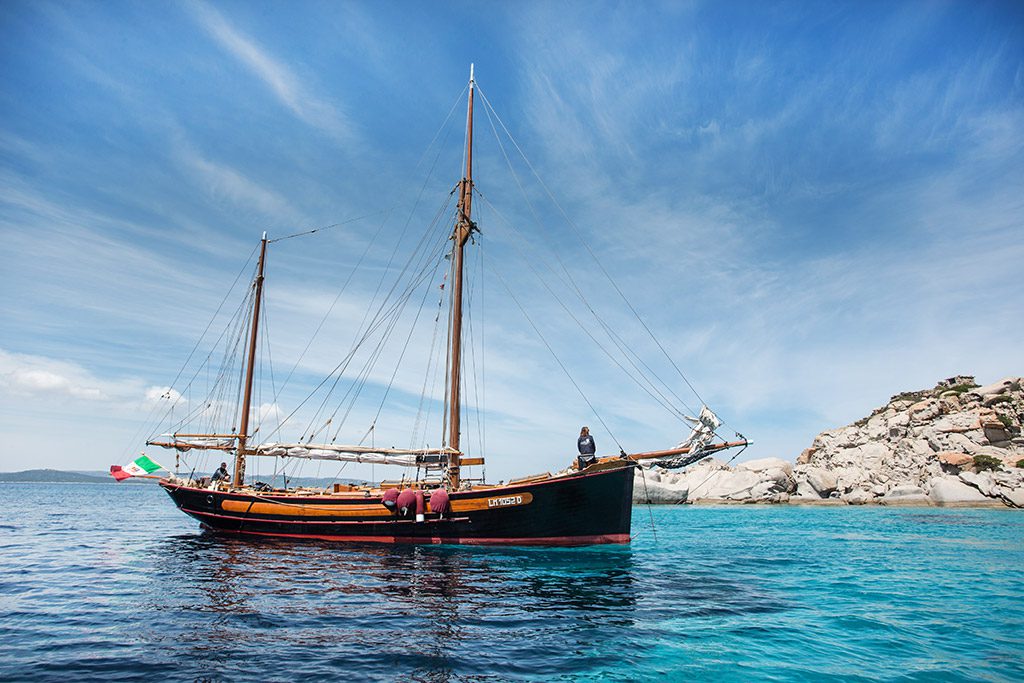 Are you looking for
AN EXCLUSIVCE SERVICE?

With Valentina Sailing Ships organize an exclusive holiday in Sardinia has never been so simple . Thanks to a wide range of services, we are able to offer customized solutions to any need, from the organization of events on board our sailing ships, to the exclusive rental of yachts and dinghies.
ARE YOU PLANNING TO ORGANIZE A SPECIAL EVENT ON BOAT?
What else is more exclusive than a wedding, private party or a fashion show on board a vintage sailing ship? Here the passion for the sea and worldliness merge, turning any event into a unique and unrepeatable event. If you are planning a special event in Sardinia, do not miss the occasion to peruse our exclusive rented sailboats. Put at your disposal the most qualified skipper and the most popular chefs to offer a service of great prestige.
RENTAL BOATS AND EXCLUSIVE TOURS AND ORGANIZATION
If your dream is to sail along the routes of the park of La Maddalena in complete freedom and experience the thrill of exciting excursions in the most beautiful sea of Sardinia, rent our boats with skipper in exclusive use. We will decide together the timetables and itineraries and on request you will be provided with snorkeling equipment and all the assistance necessary to spend the perfect holiday day!